Tanorria's Table: An Evening with Tanorria Askew
After hours at Indy Reads with the fabulous Chef Tanorria Askew.
About this event
Join us after hours to meet Chef Tanorria Askew. She will provide a cooking demonstration between our bookshelves. She will be happy to sign copies of her cookbook: Staples+5, named one of the "Best Cookbooks of 2021″ on Glamour.com.
Snacks provided by Goose the Market and drinks/cash bar provided by Sip and Share Wines. A non-alcoholic option with be available. All ages welcome!
Tickets are available for $20 (food and one complimentary drink) and $40 (food, one complimentary drink, and a copy of Tanorria's cookbook: Staples+5).
Doors open at 6:30pm with the cooking demonstration beginning at 7pm.
Any donation you choose to make will go towards Indy Reads' literacy programs.
Indy Reads is a 501c3 nonprofit. Our mission is to build the literacy, English language, and job readiness skills to empower adults and families to reach their full potential. For more information about Indy Reads and the students we serve, visit our website at indyreads.org.
For more information, please email bookstore@indyreads.org.
Register with Eventbrite here.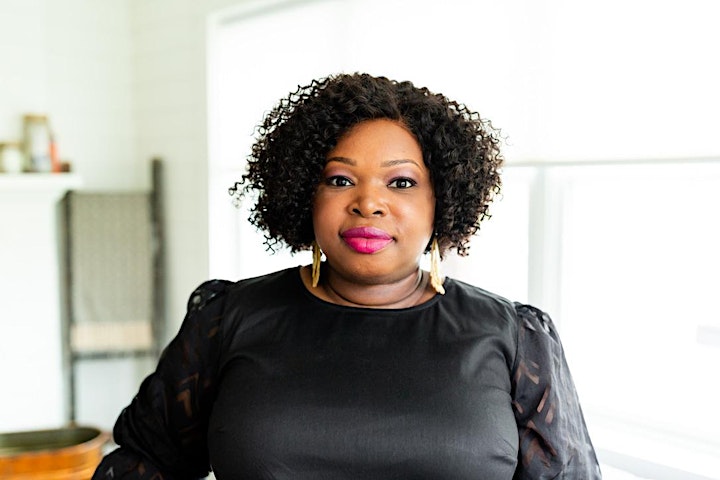 Tanorria Askew is a passionate home cook turned Chef. Tanorria works as a personal chef, creative entrepreneur, and social justice activist. Her work amplifies the intersection of food and social justice.
Tanorria has a keen sense of flavor and prides herself on making everything she cooks memorable. With her cooking roots originating from Tennessee, Tanorria has fun putting a modern spin on American Comfort Food.
A 2016 contestant on MasterChef hosted by Gordon Ramsay, Tanorria walked away as the 4th best home cook in America.
Tanorria was the champion and practitioner for Indiana's largest credit union's Diversity and Inclusion Initiative, leading the charge in winning the Indianapolis Mayor 's Celebration of Diversity Award. During that time blended her passion for cooking and her passion for D&I to create Unity Tables. A safe space for women of different races, cultures, and backgrounds to sit around a dinner table and share their hearts as a way to create unity.
Since launching her creative entrepreneur career, Tanorria has had the privilege of speaking to audiences as a Keynote speaker, Emcee, and Panelist about her significant career shift, diversity, equity, inclusion, social justice, and the courage it takes to chase dreams.
Tanorria not only teaches cooking and anti-racism through virtual learning opportunities and speaking engagements, she also co-hosts a podcast, Black Girls Eating, where she and Candace of FoodLoveTog celebrate black culture, justice, black girl magic, and well seasoned food.
A seat at Tanorria's Table will nourish your body with food and your soul with justice.
tanorria@tanorriastable.com // tanorriastable.com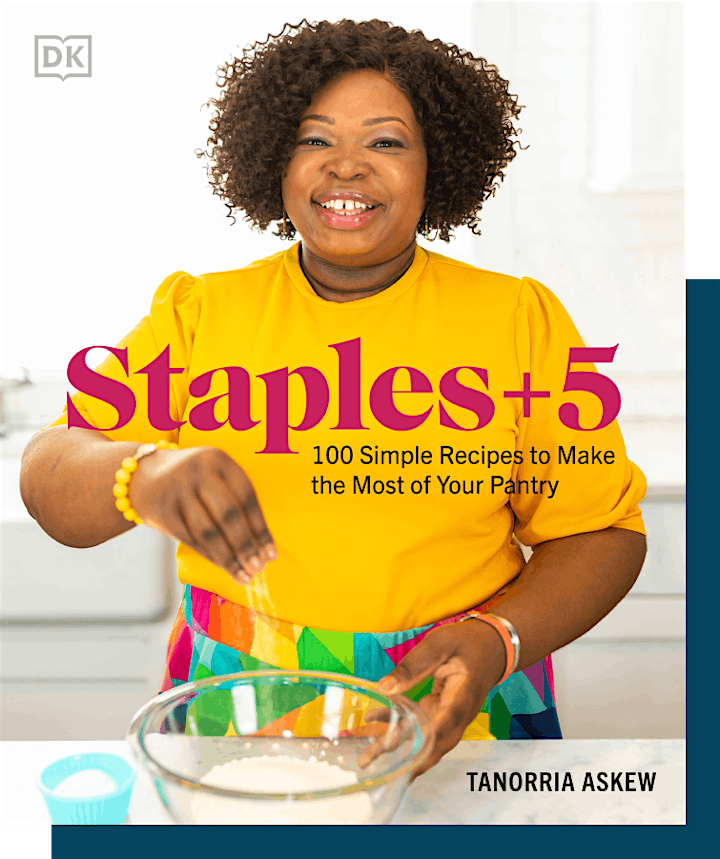 ABOUT STAPLES + 5
Turn your pantry staples into something delicious.
Nothing provides peace of mind like a well-stocked kitchen. Learn how to maximize your stores of beans, flour, and pasta with easy recipes that rely on a simple set of nonperishable ingredients supplemented by up to five additional items. Get dinner on the table without extra trips to the store, throw together a casserole for a neighbor in need, or entertain unexpected guests without added stress. You'll be ready for anything with 100 recipes for craveable comfort food to feed yourself, your family, and your community.
Former MasterChef contestant Tanorria Askew shares recipes from her family's Midwestern table, drawing on a tradition of cooking she learned from her grandparents: make the most of what you have, and share it with those you love.
Stock your shelves: Learn how to thoughtfully stock your pantry and fridge with everyday essentials and emergency rations.
Make last-minute meals: Need to get dinner on the table quickly? You already have all you need.
Perfect for beginners: Get a solid foundation in kitchen essentials and learn basic techniques with easy-to-execute recipes.
Recipes include: Chicken, Mushroom, & Rice Skillet; Turkey, Black Bean & Sweet Potato Soup; Browned Butter Couscous Salad; Blackberry Cobbler