AmeriCorps Member Spotlight
Annalia Hopper, Indy Reads WorkLiteracy Coach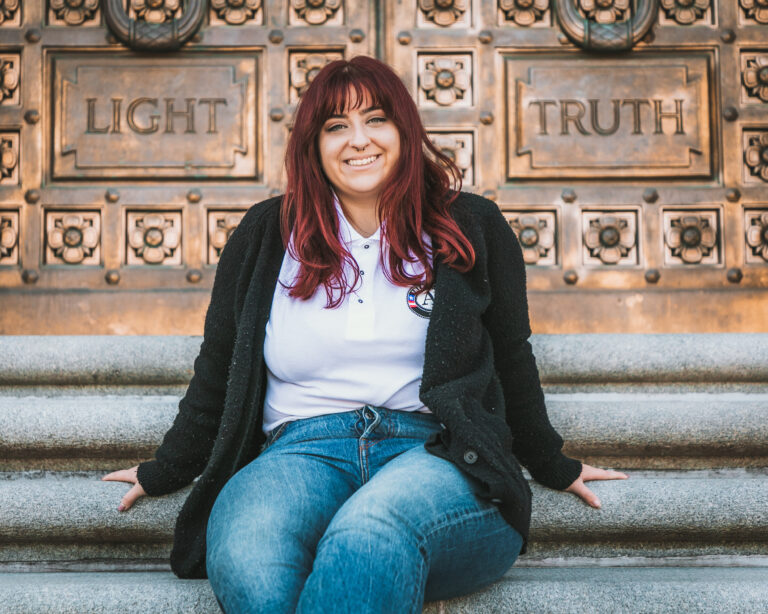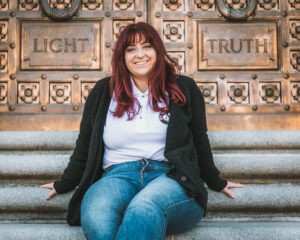 Why did you apply to be an Indy Reads AmeriCorps WorkLiteracy Coach?
I applied to be an AmeriCorps member with Indy Reads because when I was young, I struggled with severe dyslexia myself. It was a long, hard journey to get where I am today, but I know what it's like to look at a page and not even know where to begin. I'm grateful for my own experience so that I can approach instruction with the patience and understanding required to properly help my students. The only difference between them and myself is that I had resources that most people do not. I've always asked myself how I can use my privilege to help others that don't have those same privileges, and when I saw the job posting for Indy Reads, I finally had my answer. I wanted to be able to share the amazing gift that was given to me, the ability to read. Thanks to Indy Reads, I can do that in my own community. I almost feel that working with Indy Reads is what I was always supposed to do. It was always meant to be. Thank you, Indy Reads!
If you were sorted into any of the Harry Potter houses, which one would it be?
I'm a Slytherin all the way. When I first took the Pottermore quiz, I was upset that I got Slytherin, and I proceeded to take the quiz 3 more times. Every time I got Slytherin, so whether I like it or not, the sorting hat has decided. The thing about people in Slytherin is that they are very misunderstood. The defining characteristic of people in Slytherin is that they desire success and don't care about others' opinion of them, which can rub people the wrong way, but as Harry Potter said himself, some of the best wizards came out of that house. Also, Slytherins have the most fun.
Last book you read?
The last book I read was Lakewood by Megan Giddings. She's a young, Hoosier author, and this is her debut novel. It's a fiction book about a young African-American woman who participates in a government run experiment and discusses the complicated, layered complacency that has led to so many of the problems in our society, including the racial tensions we have today. Fiction, though not real, has the power to warp reality in meaningful ways that can comment on the real world. This book is both timely and a great read. I would recommend this book to everyone. Please read it and support a developing artist!
Favorite memory so far as an Indy Reads AmeriCorps Member?
My favorite memory with Indy Reads so far was being able to give a presentation on Robert Frost's "The Road Not Taken." I love poetry, and being able to share that with my students was an amazing experience that I will cherish forever. The fact that I have a job where I can talk to people for an hour about one of my favorite poems is truly a dream. So many people use this poem out of context to mean that you have to take the hard or "untraveled" path in life, but in reality the poem is much more complex. When you begin to analyze the elements of a poem; like diction, structure, tone, figurative language, and all those good things, the true message is revealed. I got to turn my class into poetry detectives, and we had a great time doing it! Now, they have the skills to deconstruct poetry on their own, and I hope they find other poems that speak to their hearts more.
What do you like to do in your spare time?
In my spare time, you can find me writing or reading a lot. However, I do admit that I watch a lot of tv. I love stories of all kinds, whether it's my own stories or someone else's. I like to write horror stories, but some of my favorite fictional stories from others include The Silence of the Lambs, Pride and Prejudice, and Rosemary's Baby (all great movies and books). I knit sometimes, too! My ideal night would be to stay home, listen to an audiobook, and knit my niece a cute little sweater or socks.
What do you hope to do after life as an AmeriCorps member?
After AmeriCorps, I plan on going to grad school to get my MFA in Fiction. Eventually, I would like to get my PhD in english/creative writing, but I have a long way to go before then. Some day, I'll be a professor and a writer, and my time at Indy Reads is helping me become the teacher I always wanted to be. Look for my horror books on the shelves at Indy Reads bookstore someday. The name's Annalia Hopper, you'll know it someday. 😉