Frankenstein Friday Book Discussion
October 27 @ 6:00 pm

-

7:00 pm

Free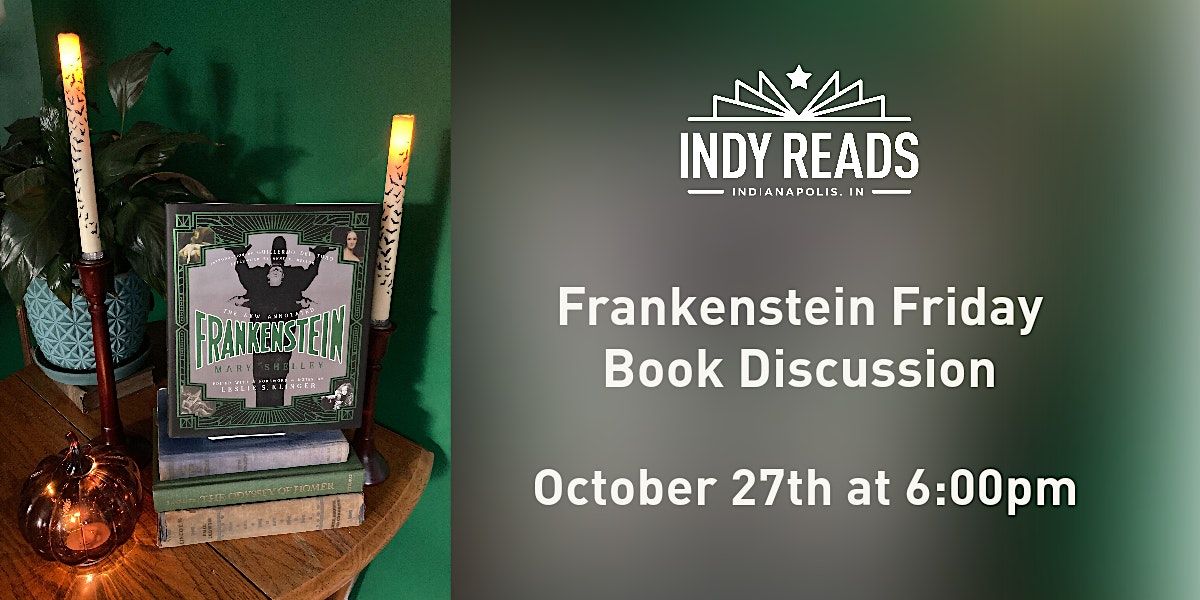 Join us for Frankenstein Friday, on October 27th, as we celebrate Mary Shelley and her famous novel "Frankenstein".
The Event
Join us for Frankenstein Friday, on October 27th, as we celebrate Mary Shelley and her famous novel Frankenstein. Our own Cat Cardwell, Bookstore Program Directory, and special guest Alexandra Pearson, UK Scholar, will lead our book discussion. Grab a coffee and/or a snack, and come talk about all things Frankenstein.
This discussion is most appropriate for teens and adults 13+. However, we will have Halloween coloring sheets for children in a nearby section for any Franken-fans who would like to bring children. Familiarity with the text suggested, but not necessary!
—
This event is Pay What You Can — Here's what your Suggested Donation can do for the Indy Reads community:
FREE – This ticket is for attendees that would like to attend this event and are unable to purchase a ticket. Indy Reads values our community and facilitators. We are proud to provide programming to all. Thank you for being a part of our community!
$10 – This donation covers the cost of one attendee to this event. Indy Reads strives to bring the very best programming to Fountain Square and all Hoosiers. Thank you for helping us to keep our quality programs accessible for all!
$20 – This donation covers the cost of two attendees to this event. If you are attending as an individual, your ticket at this level makes it possible for another who cannot afford a ticket to attend. It is only through the generosity of our community that we are able to support programs that enrich the lives of all Hoosiers. Thank you for your support!
Other – "Pay What You Can" really does mean pay what you can. Indy Reads appreciates that every one of our community members is able to support our vision of 100% literacy for all in different ways. Whether you can pay $5 or $50, we are so excited to see you – and thank you for your support!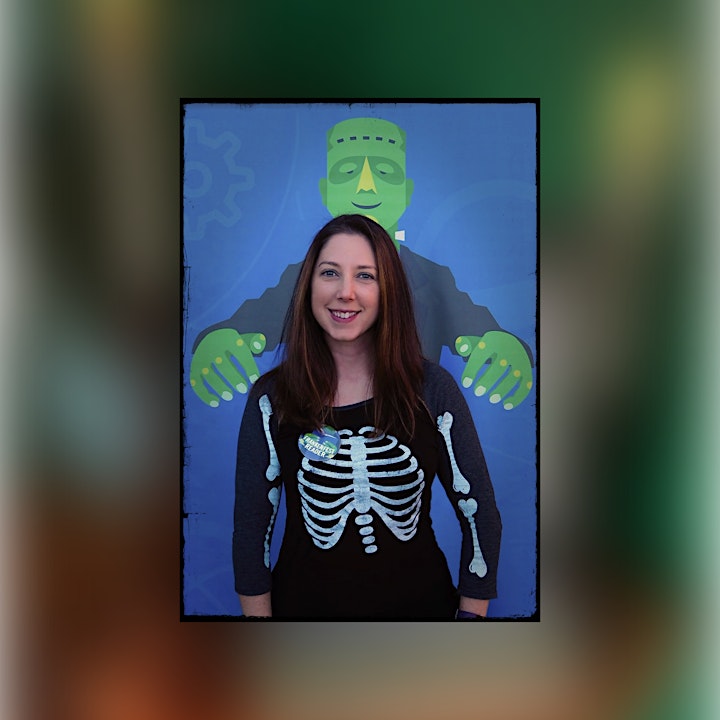 Cat Cardwell, Bookstore Program Director, joined the team in 2021 with over 15 years of experience in both the public and private sectors. She is proud to have worked with important local organizations, such as the Indiana Repertory Theatre and the YMCA of Greater Indianapolis, forming wonderful relationships with our community. Cat co-founded the nonprofit EclecticPond Theatre Company and became the Managing Director and Board President, creating accessible and inspiring adaptations of classic works for the public and schools. She co-directed its first production, Romeo & Juliet, and directed a gender-reversed production of Julius Caesar. Cat graduated with honors from Indiana University, majoring in English and Political Science, before obtaining her Postgraduate Diploma with Merit in Shakespeare, Stratford upon Avon and the Cultural History of Renaissance England from the Shakespeare Institute, University of Birmingham, UK. She returned to her Indiana home after working for Blackwell's Bookshop, the oldest bookstore in Oxford, UK. Cat is thankful for a family that knew the importance of reading to her before the letters made any sense.
Photo: Cat excited to be a Frankenstein Reader for the 2017 Indiana Humanities' One State/One Story kick-off with a 12-hour read-a-thon of the beloved book at the Indiana Medical History Museum.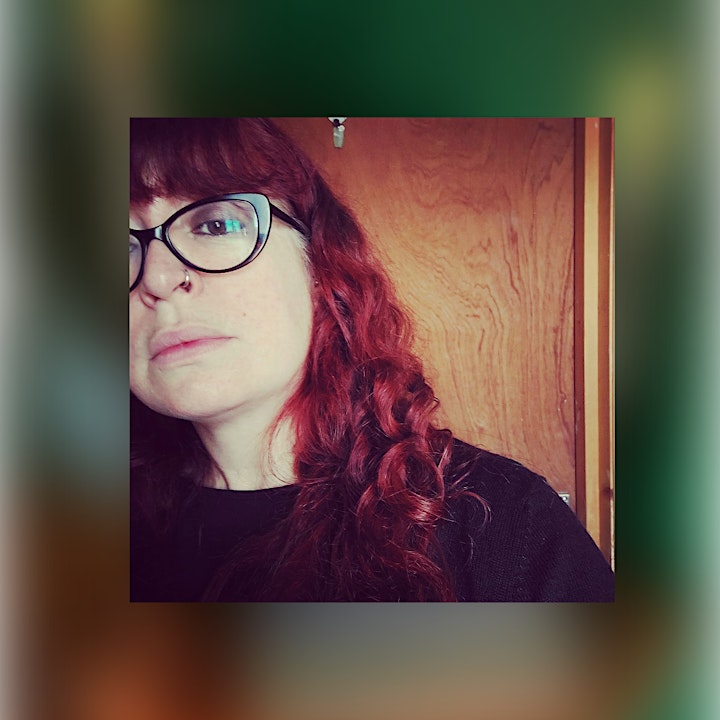 Alexandra Pearson runs the horror section in Blackwell's Sci-fi & Manga bookshop in Oxford, England. Blackwell's was founded in 1879. She has Master's degrees in both Death Studies and English Literature. Her love of horror stretches back to her childhood in haunted vicarages in London, and will probably extend beyond the grave.
HISTORY OF FRANKENSTEIN FRIDAY
Human history has never been without monsters. Myths, folktales, epic stories have all had a monster or two, even tales from ancient civilizations like the Aztecs or Incas. While appearances and characteristics might differ, these monsters have appeared across cultures. Of these, Frankenstein's monster is one of the best-known of all time.
In 1816, Mary Shelley, wife of poet Percy Bysshe Shelley, traveled to Geneva, Switzerland, to visit their friend, poet Lord Byron, at Villa Diodati. The group also consisted of physician John Polidori. A volcano erupted in Indonesia causing severe rain and climate abnormalities, meaning the group was stuck inside the house where they read ghost stories to pass the time. Lord Byron subsequently proposed a competition to see who could come up with the best ghost story. Mary Shelley won this contest with "Frankenstein"; Lord Byron and Percy Bysshe Shelley did not finish their stories, but Polidori wrote the inspiration for Bram Stoker's "Dracula", "The Vampyre". "Frankenstein" was anonymously published two years after when Mary was only 20 years old. The dedication in the very first edition was to William Godwin, Mary Shelley's father. Percy Shelley wrote the preface, which is why many people assumed he wrote the book. Shelley republished it under her own name in 1823, with a third edition coming eight years later that explained how the story came to be. This final version is what most readers are familiar with today. The story spawned editions upon editions of prints in every language, and countless movie adaptations, over almost two centuries.
While Shelley always maintained she came up with the name of 'Frankenstein' (meaning 'Stone of the Franks') herself, critics believe she was influenced by a castle with the same name. The castle's previous inhabitant was one Konrad Dippel, an unbalanced alchemist obsessed with creating an elixir that would help people live for over a hundred years. It was rumored that he dug up bodies and experimented on them, just like Victor Frankenstein in Shelley's book.
Ryan MacCloskey from Westfield, New Jersey, founded Frankenstein Friday in 1997 to celebrate the characters, the book, and the author. He chose Friday for the celebrations because of the fun alliteration it makes with Frankenstein. Plus, he says, it is easier to be festive on a Friday than any other day.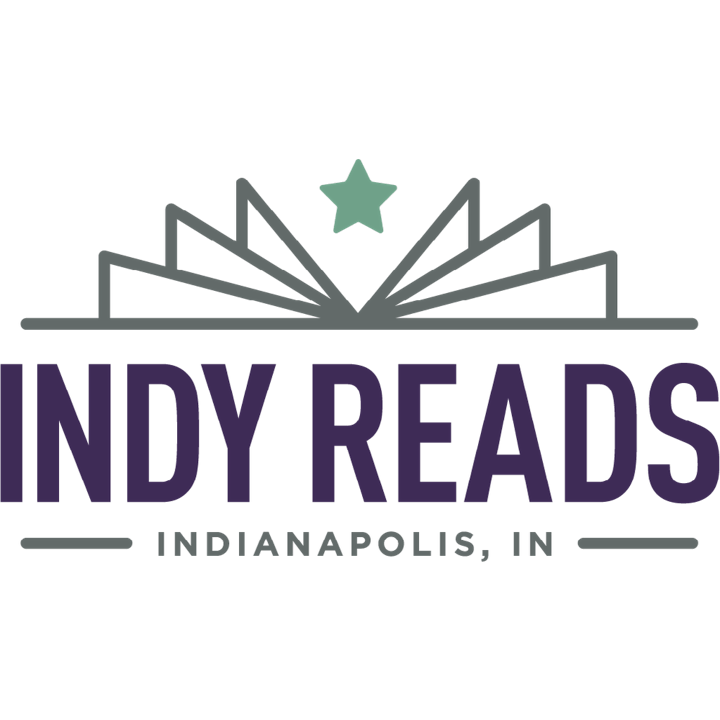 For more information, please email bookstore@indyreads.org.
Indy Reads is a 501c3 nonprofit. Our mission is to empower adults and their families through literacy, English language skills, and job readiness programming. For more information about Indy Reads and the students we serve, visit our website at indyreads.org.