Play Reading: Popular Monsters by Lou Harry
October 6 @ 7:00 pm

-

10:00 pm

Free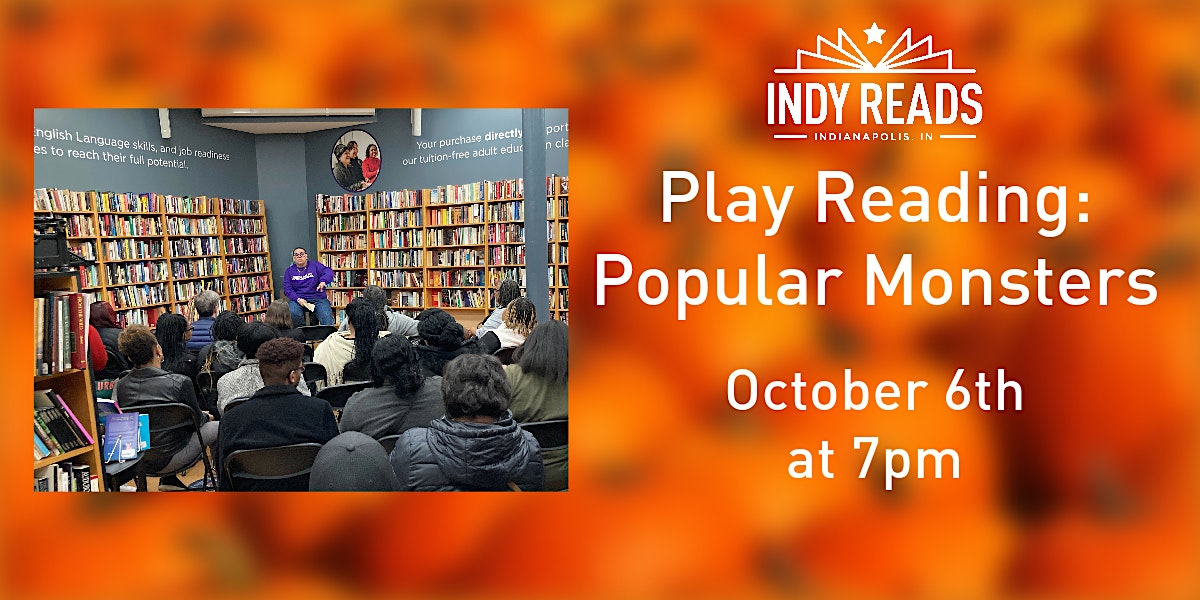 Join us for a reading of Popular Monsters by Lou Harry on October 6th at 7pm! Don't miss this Halloween-themed play by a local playwright.
American Lives Theatre and Indy Reads present a special one-night-only reading of "Popular Monsters" by playwright Lou Harry. It's 1978, "Halloween" is about to open in theaters, and Greg has landed his dream job at his favorite horror movie magazine. But what's really scary isn't what's on screen or in print. On one dark and emotionally stormy night, a meeting with a horror movie legend is complicated by Greg's wildcard "Rocky Horror"-loving date and his boss' enigmatic daughter.
This reading is recommended for theatre lovers ages 13+.
Lou Harry's produced plays include Rita From Across the Street (American Lives Theatre) Midwestern Hemisphere (Heartland Actors Repertory Theatre), Lightning and Jellyfish (Theatre on the Square), Popular Monsters (Catalyst Rep) and We Are Still Tornadoes (Butler University Theatre). The editor of Quill, the magazine of the Society of Professional Journalists, he has written more than 30 published books and writes frequently for Indianapolis Monthly, Midwest Film Journal and other publications. Follow him @LouHarry and via www.louharry.com // American Lives Mission: Our Mission

American Lives Theatre engages, provokes and entertains by presenting a mirror to this country, reflecting the lives and history of all Americans with new work and neglected classics. We tell stories that boldly cry out the truth of all that is thrilling, unjust, terrifying, joyful, absurd, brave, shameful and ultimately compassionate which embody the elusive spirit of these united – and often divided – states.
This Event is Pay-What-You-Can
Here's what your suggested donation can do for the Indy Reads community:
FREE – This ticket is for attendees that would like to attend this event and are unable to purchase a ticket. Indy Reads values our community and facilitators. We are proud to provide programming to all. Thank you for being a part of our community!
$10 – This donation covers the cost of one attendee to this event. Indy Reads strives to bring the very best programming to Fountain Square and all Hoosiers. Thank you for helping us to keep our quality programs accessible for all!
$20 – This donation covers the cost of two attendees to this event. If you are attending as an individual, your ticket at this level makes it possible for another who cannot afford a ticket to attend. It is only through the generosity of our community that we are able to support programs that enrich the lives of all Hoosiers. Thank you for your support!
Other – "Pay-What-You-Can" really does mean pay what you can. Indy Reads appreciates that every one of our community members is able to support our vision of 100% literacy for all in different ways. Whether you can pay $5 or $50, we are so excited to see you – and thank you for your support!
For more information, please email bookstore@indyreads.org.
Indy Reads is a 501c3 nonprofit. Our mission is to empower adults and their families through literacy, English language skills, and job readiness programming. For more information about Indy Reads and the students we serve, visit our website at indyreads.org.